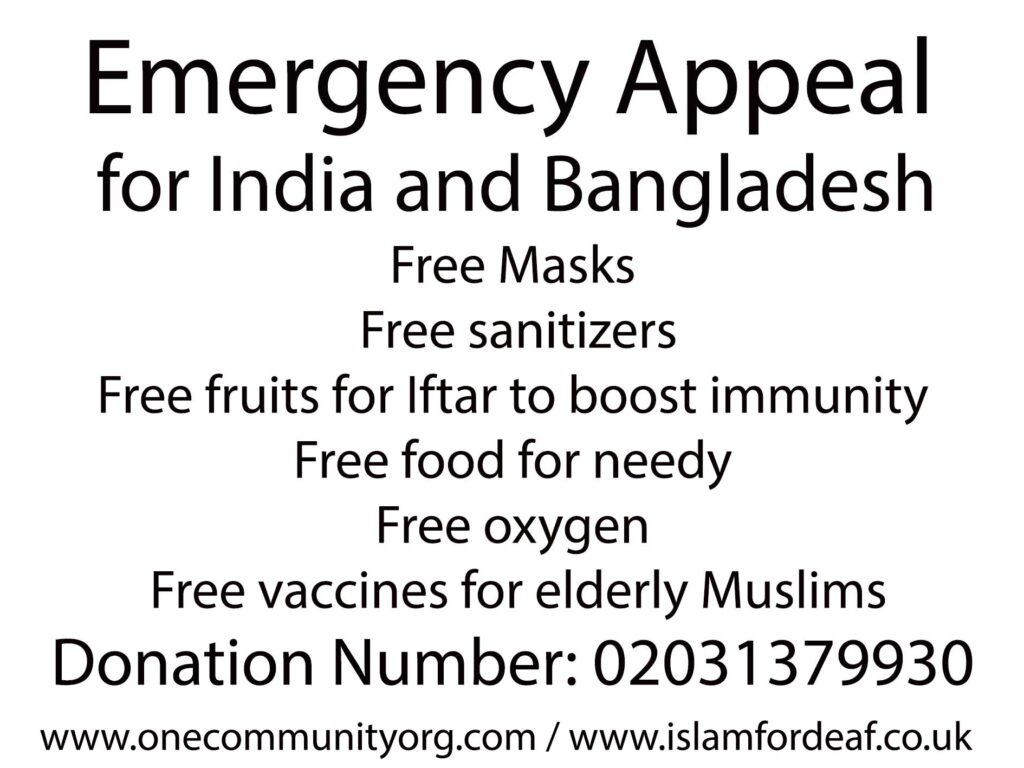 One Community Organisation with Nama Enterprises has planned to source
10 large oxygen cylinders and supply to needy patients in our city.
COSTING DETAILS
10 Cylinders =Rs2,00,000
10 Mask & Hose =Rs2000 each (Disposable)
Refill per cylinder presently = Rs2000 (Earlier Rs 700) each
Your generosity will be highly appreciated as few critically ill patients are seeking our Aid. Any donation will help us raise funds towards running cost.
One Community Organisation with Islam for Deaf have Team Members and volunteers on the grounds of India and Bangladesh in this desperate time of need our Brothers and Sisters dying in there thousands and need urgent support.
YOURS DONATIONS WILL HELP PROVIDE. MASKS SANITIZERS FOOD, FRUITS TO BOOST IMMUNE SYSTEM, IFTAR FOR THE POOR PACKAGES Read more & donate here – DONATION NUMBER 02031379930 24HR DONATE HERE:
 RAMADAN 2021
THIS RAMADAN REMEMBER OUR DEAF COMMUNITY WITH YOUR DONATIONS.
Bank Details:
Barclays Bank 
One Community Organisation.                 
Account number: 20724432
Sort Code: 20-08-64
Reference: Islam for Deaf
Abu Huraira reported: The Messenger of Allah, peace and blessings be upon him, said, "Charity does not decrease wealth, no one forgives another except that Allah increases his honor, and no one humbles himself for the sake of Allah except that Allah raises his status." Source: Ṣaḥīḥ Muslim 2588
Support IFTAR FOR DEAF this Ramadan
Support Deaf Children's Programs
Ramadan Daily Hadith Day 26
Important lessons about Ramadan
Important Lessons About Ramadan
Masjid As Samee Al Basir (MASAB)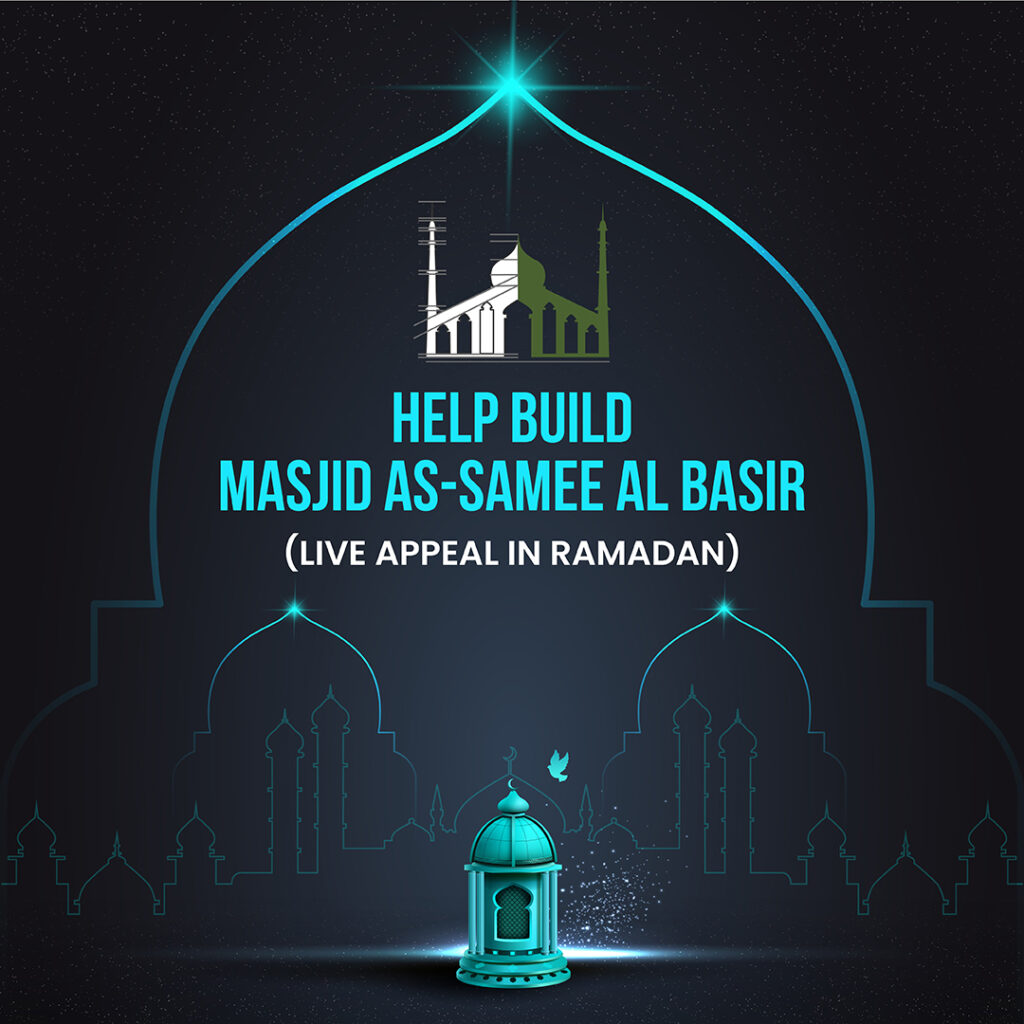 Donate to support The Masjid for all regardless of disability. A Masjid for the Deaf/Blind and Special Needs. Allah is the All Hearing the All Seeing, Masjid Al-samee Al-Basir. Donate towards the House of Allah that facilitates for all.   
WE NEED ISLAMIC PROGRAMS FOR DEAF CHILDREN (ZAKAT APPLICABLE).
Help and be apart of One Community Deaf
Support Islam for Deaf Kids
LIVE ISLAMIC DAILY RAMADAN LESSONS
Sponsor A Deaf Child
The Key to Success is Knowledge
Islamic Education
Children's Education
Islam for Deaf Kids
Supporting Deaf Children's Education

Sponsoring a Deaf Child means their Islamic needs and well-fair will be supported and maintained throughout their upbringing. Deaf & Special Educational Needs (SEN) are always forgotten and left out, they have to compromise and settle for less because of their disability. Your Donation prioritises Muslim Deaf Children, making them feel part of the UMMAH and not shunned away from it.
Your Donation can be anything you can afford to give for the Sake of Allah, from a one off Donation to a monthly Donation to Sponsor a Deaf Child.
VIDEO OF THE MONTH April 2021
Highlights for Islam for Deaf Conference 2019
Islam for Deaf Services Reported by the BBC
Islam for Deaf is the first and only Deaf Islamic walk in centre, providing Islamic Services for the Global Deaf Community. Watch the report from the BBC (British Broadcasting Corporation).
Islam for Deaf performed for first Taraweeh for the Deaf Community During Ramadan 2017 which was held at London Central Mosque. With the permission of Allah and generous Donations the task was a success. By the permission and grace of Allah we plan to keep providing Taraweeh for the Deaf Community every year insha Allah, in different cities throughout the UK. Your generous donations help Islam for Deaf provide Islamic materials and services for the Deaf Community, so please support and continue to donate as we are still in need of continuing the call to islam in BSL (British Sign Language). Alhamdulillah since starting this program many from our Deaf Community has benefitted Greatly from the service and some including an interpreter has even embraced the religion of Islam. So Donate and Support Islam For Deaf.
Click to watch full video
Islam For Deaf interviews with the Deaf Community.
Pay your Zakat to help The Deaf Community to learn & understand Islam
Please Donate Your Zakat Here